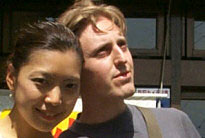 Robinson Technologies is operated by the husband and wife team of Seth and Akiko Robinson and is located in Hiroshima, Japan.
Seth Robinson - Founder and "Chief Everything"
Seth has made a practice of making odd games, including designing and programming many independent titles such as the BBS hit Legend Of The Red Dragon, the multiplayer Flash based web game Funeral Quest, IGF finalists Teenage Lawnmower and Dungeon Scroll and the cult classic RPG Dink Smallwood.
Akiko Robinson - The true boss, musician, designer, 2d/3d artist
Akiko has honed her skills by doing artwork for many commercial titles including Duke Nukem Mobile (2D and 3D versions) and designing and illustrating indie games like Teenage Lawnmower, Dungeon Scroll and Akiko Robinson's Reckless Thief.
A press pack with Teenage Lawnmower screenshots, our bio's and company logo is here. (2.8 megs)

Contact information:
Support and help: support@rtsoft.com
Business inquiries: seth@rtsoft.com

Note: We answer ALL questions, so if you don't receive a reply within a week, please check that your return address is correct and working and re-send it.
For Vendors:
You have our permission to distribute our demo versions (does not include our game Dink Smallwood, this requires special permission) in unmodified archived form via website or CD.
Feel free to use our PAD files for easy insertion into your database and to remain synched with our latest release:
Teenage Lawnmower: tlm_pad.xml
Toolfish Utility Suite: toolfish_pad.xml
Dungeon Scroll: dscroll_pad.xml
We offer a very attractive affiliate system for the above software through regnow's affiliate program. Our regnow affiliate ID is 7932.
Our Credits: